Landscape project around the public facilities in the Oshiage・Narihirabashi station area
Landscape suitable for an "International Tourism City"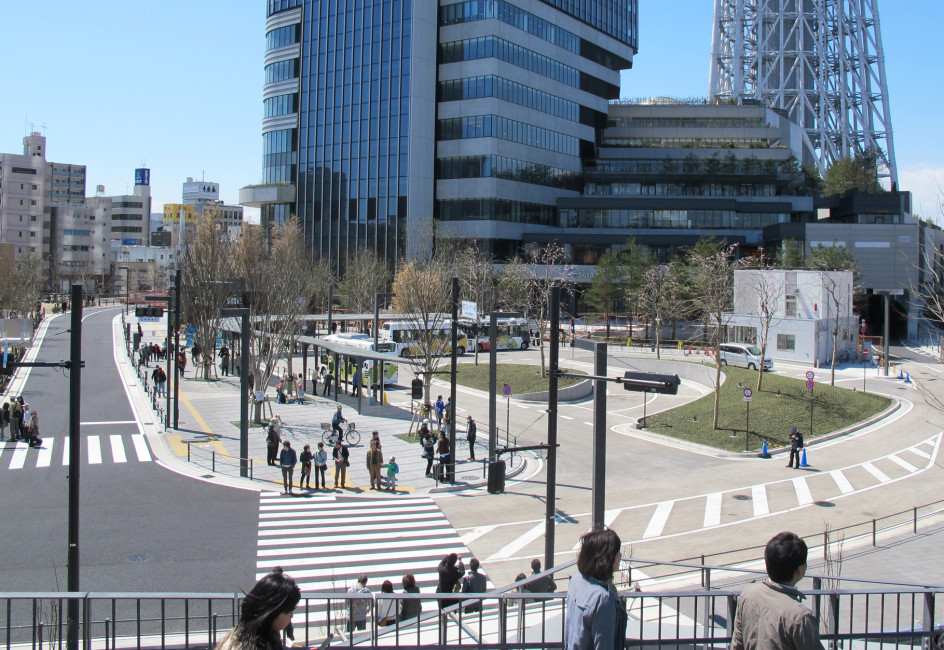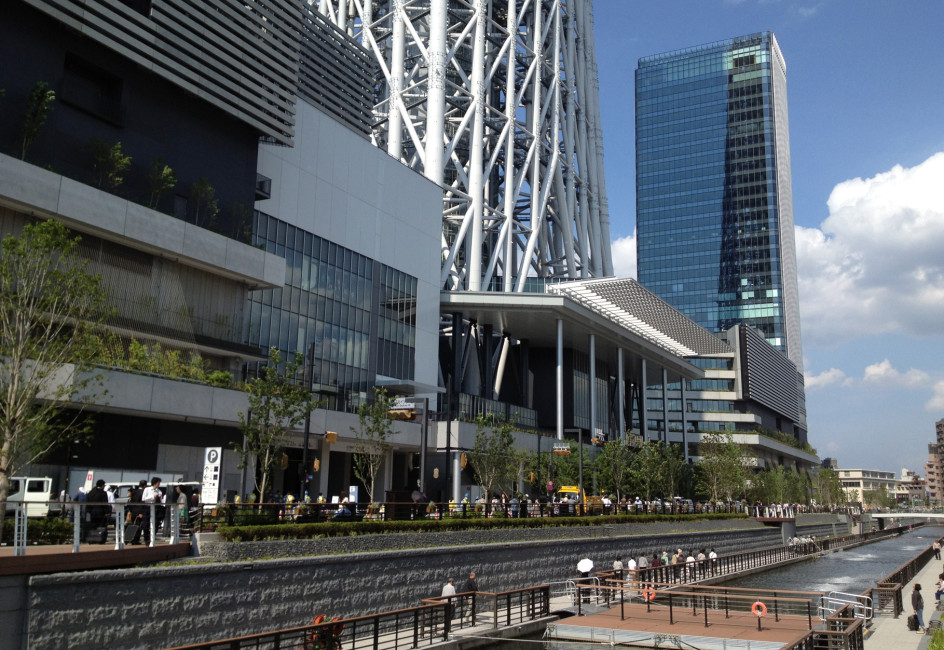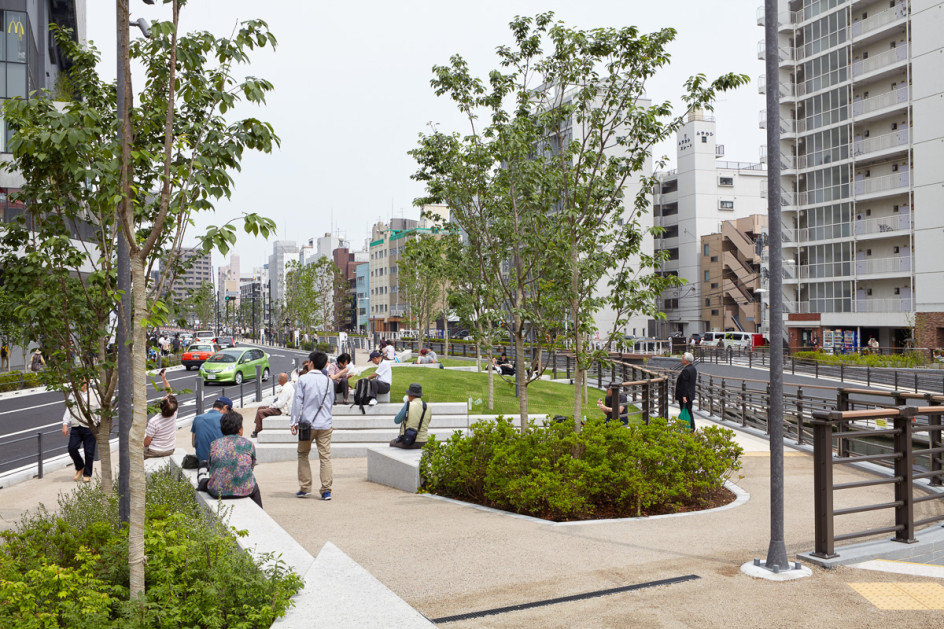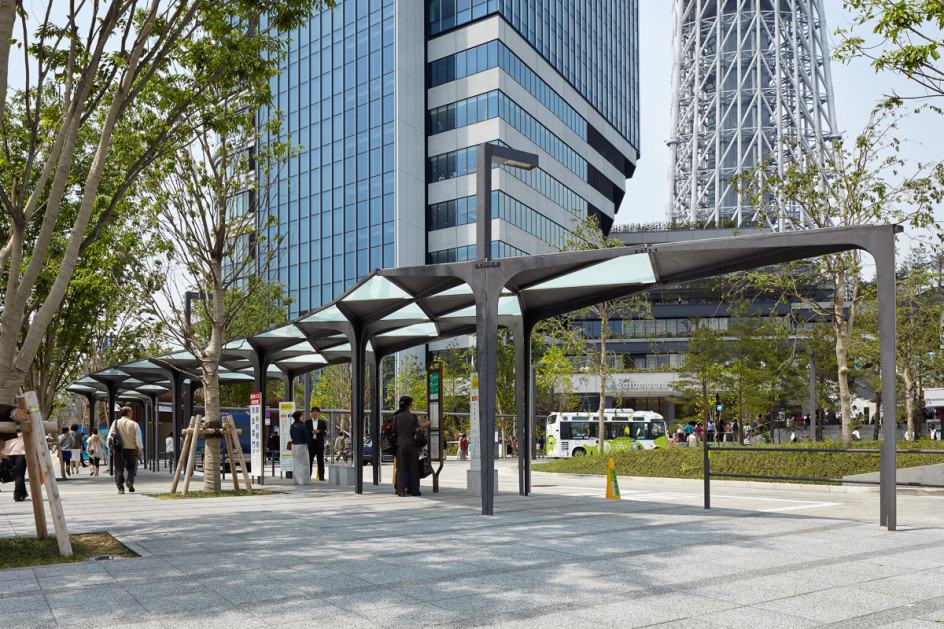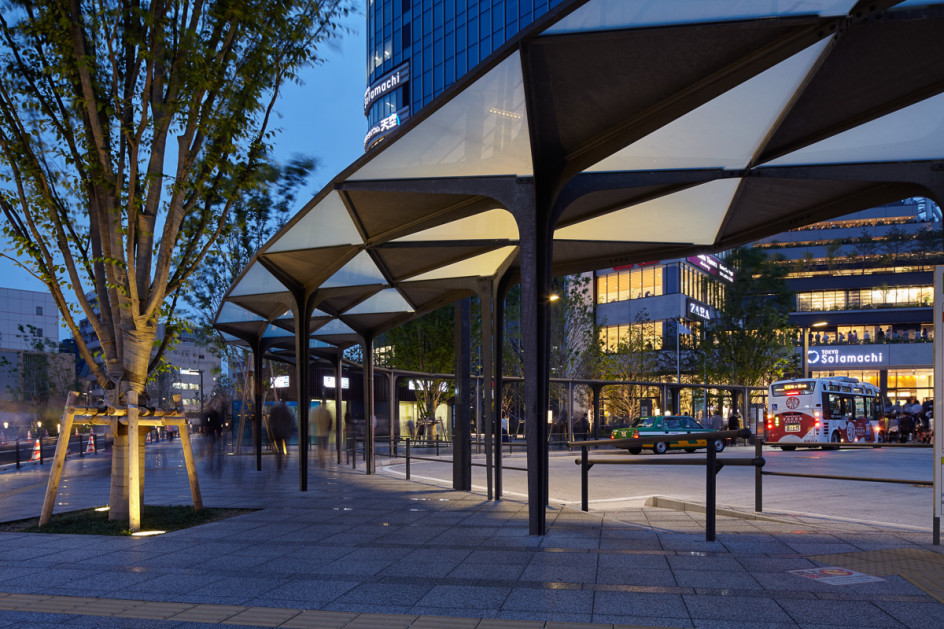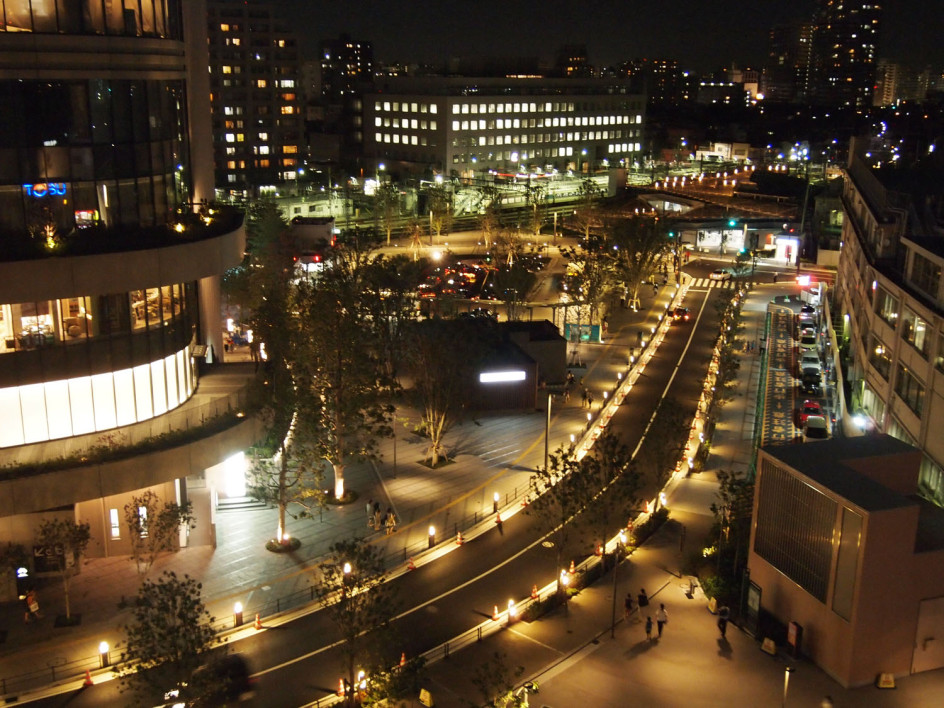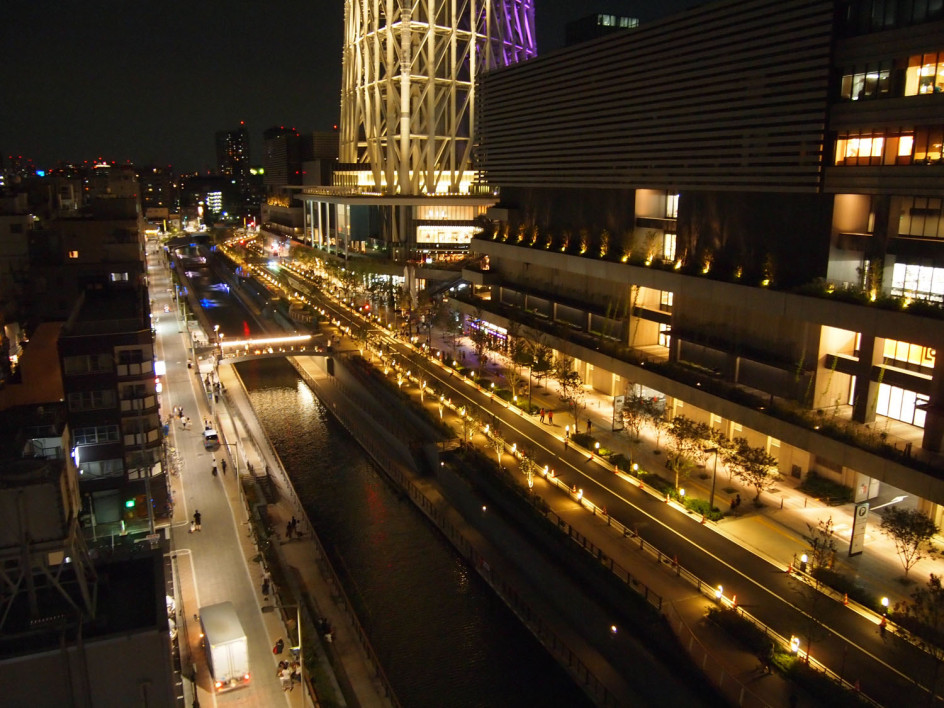 Landscape suitable for an "International Tourism City"
The goal was to create a landscape suitable for an "International Tourism City" in the supporting public facilities at the foot of the Tokyo Skytree, which would become an undisputed landmark. The overall concept for this was to make the boundaries unrecognizable between three project sites with different commissioning entities in the tower, roads and plaza, and parks along the canal and the following two themes were adopted in order to accomplish such scenery.
1, Theme for environmental planning "Form a green hill to the river waterfront"
In order to form an urban space that would continue the tradition of the Environmental City of Edo, a continuous corridor with tree-dimensional water features and plantings was created down the "Green Hill" of the tower street area, through the station plaza "Station Front Forest". Tall and substantial trees were actively planted to give an impression of continuity along the fragmented greenery around the R.kitajikkengawa - roads - tower street area as well as the station plaza and its roads.
2, Theme for town planting "Towards a [Chic] town"
"Chic", representative of townspeople culture in downtown Edo and its aesthetic sense of life was made the "Design Code" and various facilities were arranged in accordance with the concept. "Shape・Color・Pattern・Material": thinking of the design from these four viewpoints made a united design image possible above and beyond the areas themselves and paving materials, shelters, fencing for pedestrian crossing prevention and lighting were all designed accordingly. Specifically, the three materials and finishes commonly used are: concrete = birthplace for ready-mixed concrete, zinc phosphate treatment for iron (matte black) = identity of the railway tracks, and glazing = the overflow of human and commercial activities.
These themes are to harmonize the history from the Edo era to modern times and the innovative spirit that was brought about by the new tower, and are worked in line with the basic policy of the "Public Space Design Guidelines" to form a safe and secure place, coexisting with the environment while at the same time being an inviting public space. A united design concept was coordinated in tree areas: the tower street area by the Tobu Railway Co., Ltd, the city block streets, block parks, and station Plaza by the Oshiage-Narihirabashi Station Area Land Reallocation Association (Comprehensive Contractor: Urban Renaissance Agency), and then the terraces along both sides of the R. Kitajukkengawa by Sumida Ward.
ADDRESS : Sumida-ku, Tokyo
SCALE : 16,600m2
COMPLETION : 2012.03
BUSINESS OWNER : Land Reallocation Association around Oshiage Narihirabashi Station area , Urban Renaissance Agency
COLLABORATION / ARCHITECT : IWAI LUMIMEDIA DESIGN , TRIBEAT
photo : Hayato Wakabayashi