COMPANY
Firm Statement
Founded in 1992 at Tokyo and reorganized into a corporation in 2001, PLACMEDIA has been one of leading and highly recognized landscape / urban design firm in Japan for over 15 years. The scope of service we provide has a wide range of scale and program including small gardens in residential district, environmental design for offices, hotels and institutions, parks and urban squares, residential and resort development, and planning for landscape management in regional scale. Also, works and projects we have accomplished are recognized both in nationwide and overseas.
Since profession of landscape design is often expected to perform as a coordinator among various professions concerning built environment, collaboration with adjacent professions such as architects, interior designers, urban planners, civil engineers and other related expertise, occupies primary portion of our practice as necessary. Here, collaboration means creative process through which borderless co-endeavor by different professions together leads to productive output. Our extensive experiences in the collaboration with numerous renowned architects and designers in the past give us opportunities to explore a wide variety of optimum solutions for clients.
Another aspect of our professional practice to be mentioned is in a balance of something traditional and contemporary. We have a strong tradition of environmental culture of historic garden and extensive research in it both Japanese and foreign provides us unique background and solid foundation for design expression. Meanwhile, by adapting to the conditions of environment in the reality, we try to reach solution that integrates the tradition into contemporary context of physical environment in which cohesiveness of a particular place and landscape would be envisioned.
Most of professional practices at the firm are executed through internal and external collaboration of partners, staff and outside collaborators whose backgrounds are found in a wide variety of disciplines. Ideas and solutions of design reflect diversity of those disciplines and profound understanding of clients' needs, program requirements and site conditions as well. In particular, understanding of natural process in artificial environment and knowing how to accomplish a balance between ecological soundness and aesthetics in landscape would be a key factor from now on, and in this regard, our service certainly makes contribution.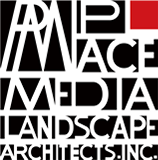 Abstract of Office – PLACEMEDIA
PLACEMEDIA, Landscape Architects Collaborative
Zip 187-0002
1-9-2・201 Hanakoganei, Kodaira, Tokyo, Japan
TEL: +81(0)42-460-5801 / FAX: +81(0)42-460-5802
Capital: 10 million yen
Founded: March 25, 1991
Partner
Shunsaku Miyagi , Yoshiaki Yamane , Susumu Yoshida , Junichi Yoshimura , Shintaro Yoshizawa , Takashi kishi
Service
Landscape Design, Urban Design, Garden Design, Signage Design, Lighting Design
Inquiry
TEL: +81(0)42-460-5801
Information map